Carbine conversion kits
No FFL Transfer Required
"prices and laws are subject to change"
---
Mec-Tec

Glock CCU 'dressed up' with Muzzle Dec*; M4 collapsible stock and red dot optic. Or.......... go all the way!

1911 unit with 'QuadRail' M16 sights; vertical grip; tactical light; M4 stock

Glock unit with Muzzle Dec*; 'MonoRail;' Fixed Module Sights; M4 stock

1911 unit with 'MonoRail' and M4 stock

1911 with Telescoping Stock only

Shown here is the 'Basic' unit. The Basic unit includes a Weaver style scope base but does not come with the Muzzel Dec feature or stock. Muzzel Dec is installed at the factory. All CCUs are sold this way. All accesories shown on this page are available separately except Muzzel Dec and listed on the order page.
* Muzzel Dec is not available separately
---
NOTE: Prices do not include shipping/handling charges.
1911 kits :$345.00
All Frames: 45ACP,38 Super,40 S&W, .357 SIG, 9mm, 10mm, 460 R (the.460 Rowland round)
The Various Glock Models: $351
Full Size Frame G17 & 22. in 45 acp, 10mm, .40 S&W, .357 Sig and 9mm
Compact Frames 19 & 23: .40 S&W, .357 Sig and 9mm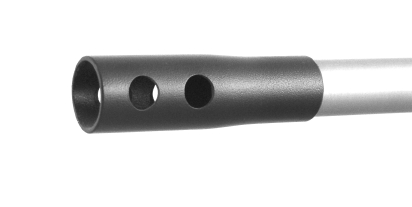 Muzzle Deck $9.99
---
Stock Options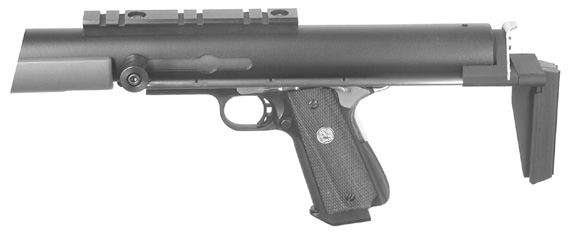 Telesoping Stock $75.99
Telescoping Stock for the 1911 CCU - Shown above fully extended and fully collapsed. Stock has 4 lockable positions. The latch is ambidextrous. The CCU fires with stock fully collapsed or open or in the middle.
M-4 Stock $75.99
Fixed Stock $17.95
Stocks are not accessories - the units must be ordered with a Fixed, M-4 or Telescoping stock.
---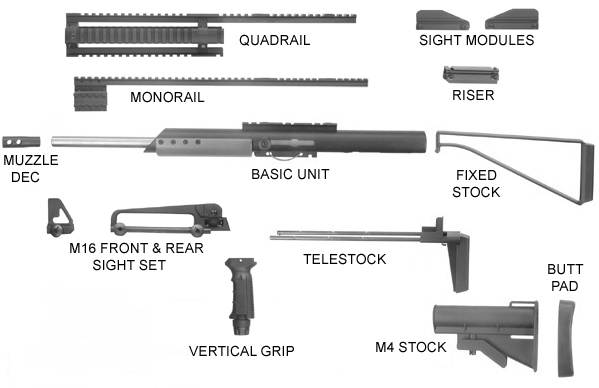 Accessories
*Sold Separately or installed with carbine kits
If you would like to ad any of the items shown here to your order the shipping will only go up a small amout per item. Only the muzzle deck must be ordered with the unit because they are installed at the factory. You can order a stock by itself if you like but you cannot order a CCU without a stock
Quad Rail $96.99
MonoRail $75.99
Fixed Sight Modules (sold as a pair) $18.99
Riser $4.59
Rubber rail Guards $14.49 p. pkg
Vetical Grip (fixed) $15.99
Vetical Grip (folding) $24.00
M-16 Carry Handle rear sight $44.10
M-16 Front Sight $9.00
Butt Pad For M4 Stock $9.00
Para Block Insert $23.10
For adapting ramped barrel frames (as in ParaOrnanc).
Glock Block Insert $12.00
For adapting Glocks frames (as Large or Mid Frames)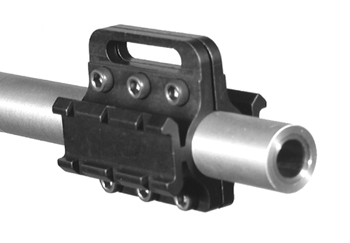 SLING RAIL $36.99
(Shown above). Clamps onto muzzle end of barrel and provides Sling loop and two weaver style mounts for laser or/and light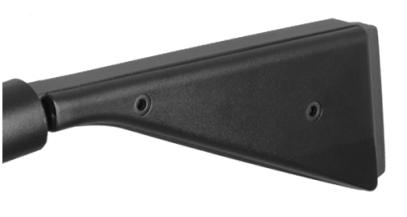 Poly stock inserts $21.99
(Shown above). Round out the metal stock with the synthetic/Hi-tec look
Stellar Rigs All Synthetic 50" x 1" Sling
$9.99

---


Add a Tuf-Cloth to your order for only $8.97
Marine Grade Tuf-Cloth $9.99





Phone (561) 616-5015